Customer Support
Contact us any time.
What are the frequently asked questions?
Where you can buy your ticket?
On the Internet

You can simply buy your ticket on www.leoexpress.com website. You do not need to print out your ticket. Just show your seat number and the PDF ticket in e-mail. Pay simply with your credit card, via the payment gateway, or with leo credits.

At Leo Express ticket offices

You can visit our ticket offices located in Prague Main Station, Olomouc Main Station, and Ostrava-Svinov Station.

At contractual dealers

Do you need a ticket and there is no ticket office in your town? You can use our contracted dealers network.

Via phone

Just call 220 311 700 and our operators will guide you through the purchase process. Please make sure you have your credit card number ready. The card must be activated for the payment via the Internet.

Combined payment

Do you want to pay for the ticket with leo credits but you don't have enough of them? Pay the remaining amount by card! It is only possible to cancel the ticket into leo credits when using the combined payment.

Directly on the train or bus

Occasionally, you will not be able to buy a ticket in any way. We offer you the possibility to get a ticket on board a train with a surcharge of 50 CZK. The only exception is holders of ZTP or ZTP / P in the Czech Republic who do not pay this fee. The surcharge does not apply to buses. On connections in public service obligation (LET connections) the fee for ticket purchase on board is not charged in stations where there is not our ticket office. On commercial connections (LE connections) the fee is charged also in stations with no ticket office.
How can I cancel a ticket?
Every ticket includes a ticket code and cancellation code that you can enter into the Ticket Cancellation Form.
You can also cancel your ticket comfortably in the Smile Club. You just log on and choose one of your active tickets. We return your money to you in leo credits. For the leo credits return is free of charge. It is only possible to cancel the ticket into leo credits when using the combined payment.
How to find a Leo Express stop?
The list of our stops can be found in the Where We Go - Stops locations. In it you can check the exact position of the stop you are leaving.
Where can I find a list of tariffs?
I didn't receive my ticket, what shall I do?
If your ticket has not arrived, check the Spam or Bulk folder. If you don't find the ticket, please contact our Customer Center, they will kindly send the ticket again.
Answers to frequently asked questions >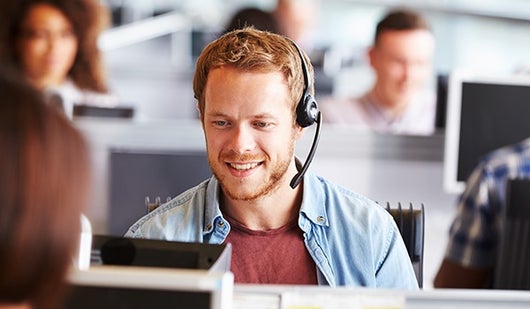 Were you not satisfied with the solution your request?
Contact our customer service manager directly.
Jakub Vyskočil

customer service manager