Health and safety are our highest priority
We can do it together
Free masks on all our connections
We make sure that you feel safe with us. That's why we offer passengers free disposable protective masks on all our connections on request.😷 This is another way we try to help protect passengers and employees.
Safe travel with Leo Express
Disinfectants
Disinfectants at the toilets are available for passengers on board. At the same time, an information poster with the correct procedure for washing hands is placed on the toilets, and other information posters are placed in the interior of the train. At the same time, we are adding products to improve personal hygiene to our range of product.
Contactless payments and the purchase of catering
As a part of our above-standard hygienic measures on board, we prefer payments for catering with a payment card or leo credits. All items from our on-board menu, which are always packaged, are already available.
Thorough cleaning before each ride
Leo Express trains are disinfected several times a day, always before the arrival of new passengers. Five times a week a deep cleaning of trains takes place. We also have ozone available to treat the units, which destroys all germs.
Protection of our staff
On-board staff have the above-standard amount of disinfectants at their disposal. We have also provided them with vitamins to strengthen their immunity, surgical gloves are already placed on trains and buses, and operating staff always have their mouths and noses covered.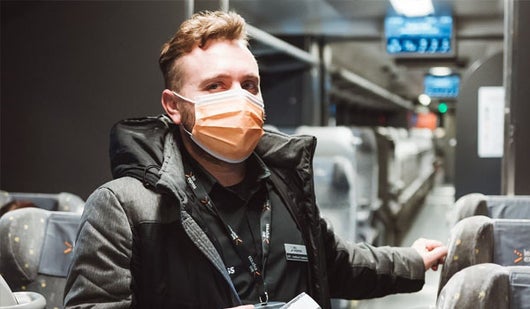 We help the needy 🧡
At Leo Express, we believe that every mask counts. That is why we donated 5,000 masks to the Na Bulovce Hospital. Thank you to all the medics for their commitment! We believe that together we will manage the whole situation and we will get back to full operation as soon as possible. 🛤️💪