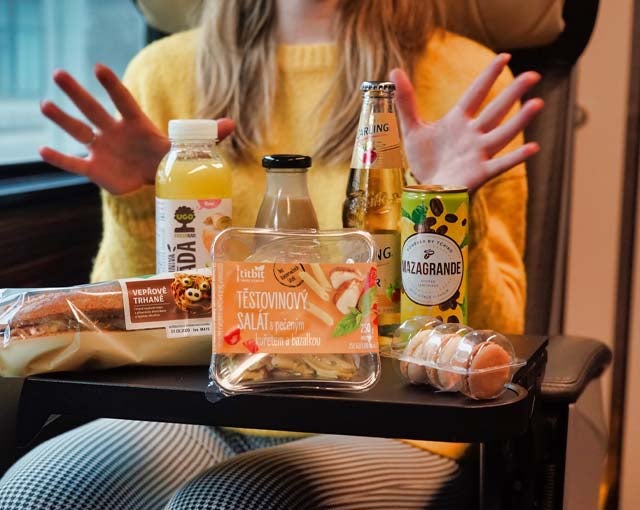 2/5/2020
New menu, new delicacies
Enjoy traveling by our trains and order something good to eat. The whole menu has been modified and it is really something to look forward to. Let's get started!
Breakfast as a gourmet
You shouldn't miss the homemade pate which you can enjoy with fresh whole grain homemade bread. If you prefer to have a sweet breakfast, try croissant with Nutella or Not-yogurt. Refreshing pineapple pieces will give you a dose of vitamins.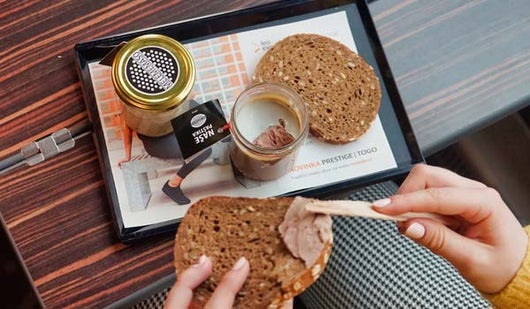 Snacks and desserts
Try also baguette with pulled pork, pasta salad with roasted chicken and confit pork. If you would like just a little snack, order Mixit Nut and Fruits Mix, containing goji, dried banana, mango and much more.
Main Meals
Do you want a light meal? We recommend fine pea cream or Caesar salad. Kung Pao or Udon noodles will be a richer lunch. If you are sweet-toothed, what about Brownie or Macaroons with coffee, coconut and caramel flavors?
Brand new drinks list
Don't miss out on news such as citrus lemonade Mazagrande with coffee flavor, UGO lemonade, and the new flavor of Notmilk – vanilla. Alcoholic beverages include Staropramen Lager, Carling cider and Corona Extra.
Business and Premium Class
Depending on the length of your trip, you are entitled to free refreshments. In the Premium class you can enjoy English Roastbeef with Grenaille potatoes and homemade tartar sauce or Kung Pao. There are also desserts such as coconut balls with cream sauce, fruit pancake or fruit sponge cake.

Payment methods
Also in this area we tried to comply with your wishes. We have extended the acceptance of meal voucher cards to the Gastro Pass Card, eStravenka and Ticket Restaurant Card. Of course you can pay contactless or via Google Pay or Apple Pay. You can also pay with your leo credits! Just know your PIN code.