Offset Your Carbon Footprint
Go Green on Board of Our Trains
We believe that the concept of environmentally sustainable transport really makes sense. Travelling has a significant impact on the environment, which is why we offer you the opportunity to offset the carbon footprint of your journey. This will offset the greenhouse gas emissions generated during your journey on our trains. We will then send the money to support renewable energy sources or to fund planting activities.
We Help Together
In November 2022, our third tree planting was funded by your donations to offset the carbon footprint! We select a winning project each fall on our Facebook page. Together we have already sent more than 9200 € to plant 115 trees in the Czech villages of Jeneč, Beňov and Jabloňov. We couldn't have done it without you, thank you!
Choose the Train
Trains are a clear leader in environmental friendliness. While transport in the European Union generates increasing amounts of CO2, rail transport accounts for only 0,5 % of this and has been declining in the long term. On the other hand, the air transport is constantly growing. The greenest trains are the electric ones, where CO2 is generated by the production of consumed electricity, during the operation itself not at all.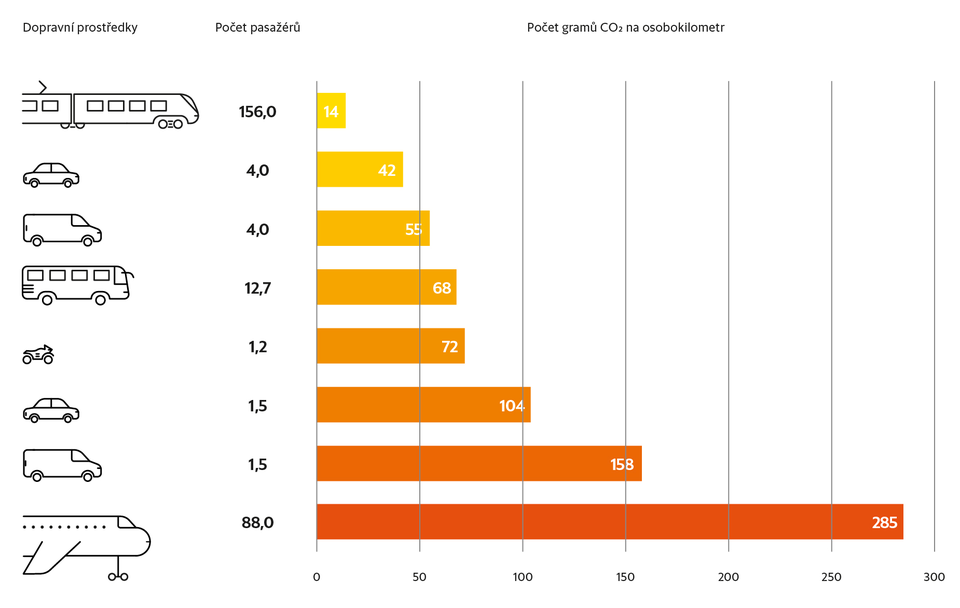 Source: www.eea.europa.eu
Carbon footprint compensation
What is carbon footprint?
The carbon footprint is a measure of the impact of human activity on the environment and in particular on climate change. The carbon footprint is an indirect indicator of the consumption of energy, products and services. It measures the amount of greenhouse gases that correspond to a particular activity or product. The carbon footprint can be determined at different levels - national, urban, individual, or enterprise and product level. In our case it is 1 passenger-kilometer traveled by various means of transport.
How do you count the exact amount of compensation?
Carbon dioxide emissions depend on the means of transport you are traveling with, its average consumption, occupancy and the exact mileage. In the case of electric trains, the calculation also involves the different carbon intensity of electricity consumed in the Czech Republic, Poland and Slovakia.
The minimum compensation amount is 1 CZK.
Can I cancel the compensation amount together with the ticket?
The amount of compensation can no longer be canceled after the purchase of the ticket.
The company CI2 is the partner of the project and also a professional guarantor and administrator of the Czech climate program SLEDUJEME / SNIŽUJEME CO2.
Log into the loyalty program Smile Club