Leo Express carried 2.4 million passengers in 2019, turnover exceeded €40m, profit increased
The number of Leo Express passengers increased by more than a third and exceeded 2.4 million in 2019. The company's turnover exceeded one billion CZK (€40m), 25% more than previous year, consolidated profit is in the range of tens of millions CZK. This year, Leo Express is projected to transport more than 3 million people and increase its turnover to CZK 1.3 billion (€51.5m). The company will focus mainly on train operations, which will be expanded by three new Sirius trains.
Turnover exceeded one billion CZK, consolidated profit will be in the tens of millions and number of passengers increased by more than half a million. Leo Express is doing well, and the popularity of our comfortable train services is growing. This year we will focus on train and feeder bus services. We plan to transport over 3 million people and increase the turnover to 1.3 billion Czech crowns (€51.5m). Among other things, this will be aided by our new Sirius train units, that we plan to put into operation this year
Pavel Spilka, CEO Leo Express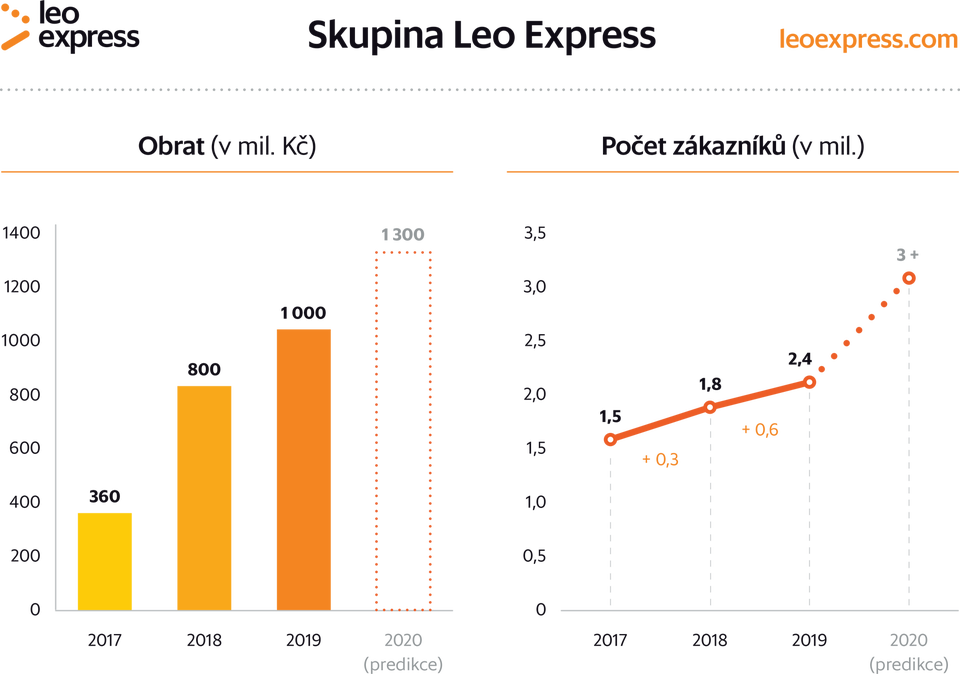 In addition to the deployment of the new Sirius units, which are currently being tested at the Velim railway test circuit, Leo Express keeps investing into FlLIRT trains. Train sections C are currently being rebuilt and new Economy Plus class will be offered to passengers. The new class will feature more comfort, more space and seats that passengers already know from the Business class. Passengers will also be able to enjoy a wider range of refreshments. Business and Premium classes will also undergo minor modifications.
Our goal is to offer even more comfortable travel. Therefore, at the request of our passengers, we add another class to FLIRT trains, which will feature more space. For Sirius trains, which are entirely based on the needs of our customers, passengers can look forward to a whole new level of travel and on-board services
Pavel Spilka, CEO Leo Express
Last year, Leo Express successfully launched PSO services in the Pardubice Region and Lower Silesian Voivodeship and plans to expand on other PSO and open-access lines.
Contact for media 
Emil Sedlařík, phone: +420 773 740 512, E-mail: [email protected]
Leo Express is a private carrier providing rail and bus passenger transport in Central Europe. The carrier primarily operates on the commercial route Prague–Ostrava, its trains also run to Košice or Krakow. Since December 2019, it also operates on regional routes in the Pardubice region. Leo Express always offers passengers modern barrier-free trains, online ticket management, loyalty program, electrical outlets, Wi-Fi, comfortable and adjustable seats in each class, carefully selected refreshments and professional service. In 2019, the carrier transported 2.4 million passengers and achieved a turnover of 1.3 billion crowns.
Log into the loyalty program Smile Club