Leo Express transported 1,8 million passengers in 2018. Turnover of group has increased to 800 million CZK
PRAGUE, 30. 1. 2019 – Based on preliminary and non-audited numbers, Leo Express has increased revenues for 2018 by more than 120 % and has reached 800 million CZK (EUR 31 mil). Growth was caused by increased number of connections in Germany, Czech Republic and new connections to Polish Cracow, where Leo Express started its first connection to Polish Cracow in summer 2018. In total, the group carried 1,8 million passengers. For 2019, the group is targeting 1 billion CZK (EUR 40mil) in turnover and launch of its first PSO services in Pardubice and Zlin regions in the Czech Republic. 
"We are pleased that an increasing number of customers share our vision of ecologically sustainable mobility. Our trains and buses were used by 1,8 million passengers last year. Following our success in long-distance commercial services, we are now successfully entering the regional PSO market in the Czech Republic. Our long-term vision remains to become a leading European mobility provider with strong bias towards sustainable and affordable quality rail services," said Peter Köhler, CEO of Leo Express.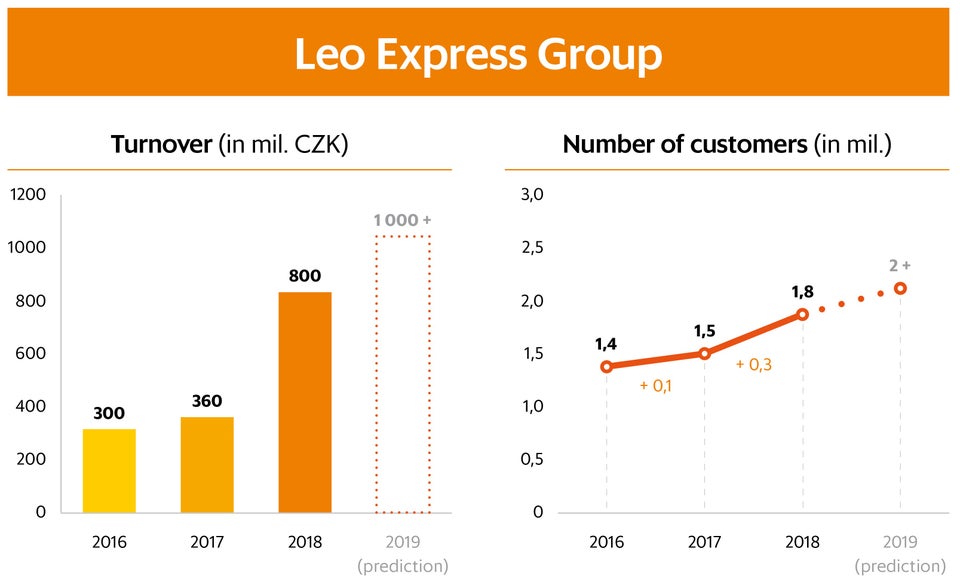 The growth in turnover was driven by an increase in operations in Germany, Czech and Poland, both in terms of rail and bus services. In the Czech Republic, Leo Express also runs a successful car sharing service HoppyGo together with Skoda Auto DigiLab, which offers now services in most cities of the Czech Republic. Peter Köhler adds: "Public mass transport rail services need to be complemented with the public last-mile solutions. This is why modern mobility needs both rail and road based transportation."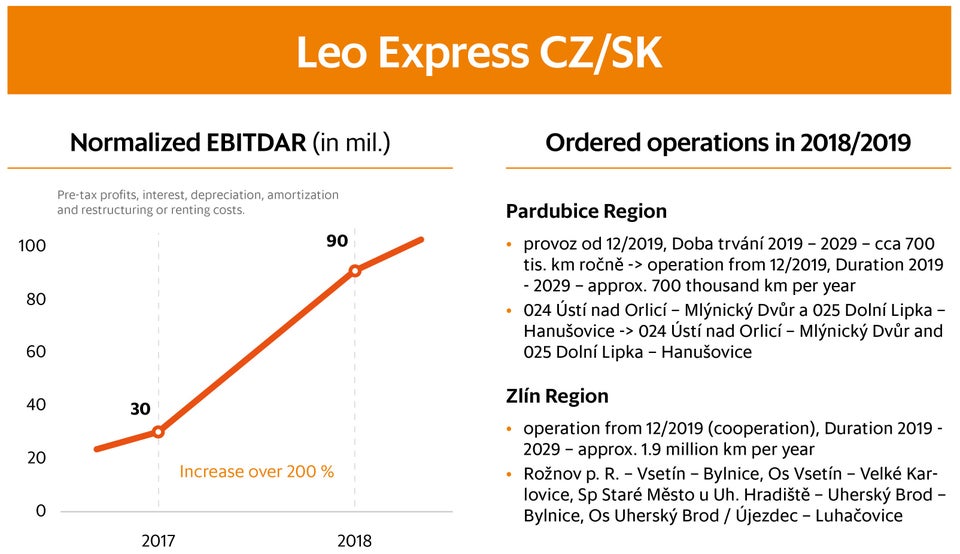 In the Czech Republic, Leo Express is a leading player in the private transportation market and managed to increase its number of customers despite a recent rail accident limiting available capacity. 
At the end of 2018, the company managed to secure contracts for public service obligations in the Pardubice and in the Zlín regions. The operations will begin in December 2019 a will offer the high standard of Leo Express services such as modern rolling stock, air conditioning or free Wi-Fi connection.
Emil Sedlařík
Spokesperson of Leo Express
Contact for media 
Emil Sedlařík, phone: +420 773 740 512, E-mail: [email protected]
Leo Express is a private carrier providing rail and bus passenger transport in Central Europe. The carrier primarily operates on the commercial route Prague–Ostrava, its trains also run to Košice or Krakow and to South Moravia. Since December 2019, it also operates on regional routes in the Pardubice region. Leo Express always offers passengers modern barrier-free trains, online ticket management, loyalty program, electrical outlets, Wi-Fi, comfortable and adjustable seats in each class, carefully selected refreshments and professional service. In 2019, the carrier transported 2.4 million passengers and achieved a turnover of 1.3 billion crowns.