Gifts Not Only for Fans
Merchandise Collection
Show Your Colors 🧡
If you enjoy traveling with us, we have great news for you. We have listened to your wishes and prepared a collection of promotional items that no traveler or Leo Express enthusiast should miss. 
Travel Essentials
We have tried to come up with a creative yet elegant design. Now you can get a ceramic mug, an anti-stress ball, an eco-friendly pen, stylish socks in a gift pack or a canvas bag as a partner for every trip. Let us know what other products you would appreciate!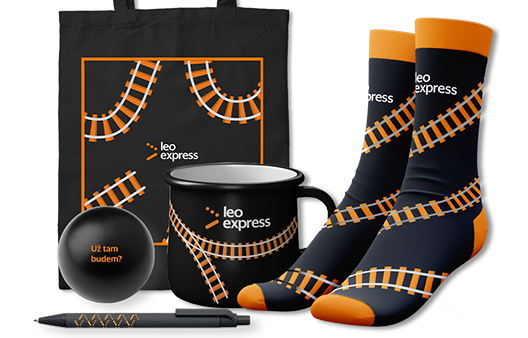 On The Train and at The Ticket Office
All items from our limited collection can be purchased now at our ticket office in Prague, Olomouc and Ostrava or directly on board the train, you can also pay with leo credits. We are preparing the launch of our e-shop as well, so you will soon be able to order your favorite products from home.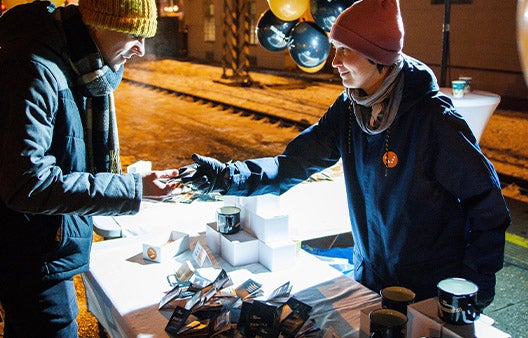 Is it possible to have the products mailed?
We can send the products to your address or to the point of delivery. Contact us via Online Chat or email us at [email protected] to discuss the details.
Who is the producer of the socks and what sizes do you have?
We cooperate with the Czech company We are Ferdinand, which produces socks in the Czech Republic from the highest quality materials. 
We have two sizes in stock: 36-40 and 41-46.
How much coffee can you fit into the mug?
The mug can hold up to 300ml of coffee, but we wouldn't recommend that for your health. You will also enjoy tea or other beverages from it. You can use the mug in any way you want, for example as a stylish flowerpot (personally tested in our offices).
How to use the anti-stress ball correctly?
We probably all know it - the train is running on time, but you still want to be at your destination as quickly as possible. Our anti-stress ball will help you in this situation. After just five squeezes, a heady feeling arrives and the pressure in your head disappears.
Log into the loyalty program Smile Club