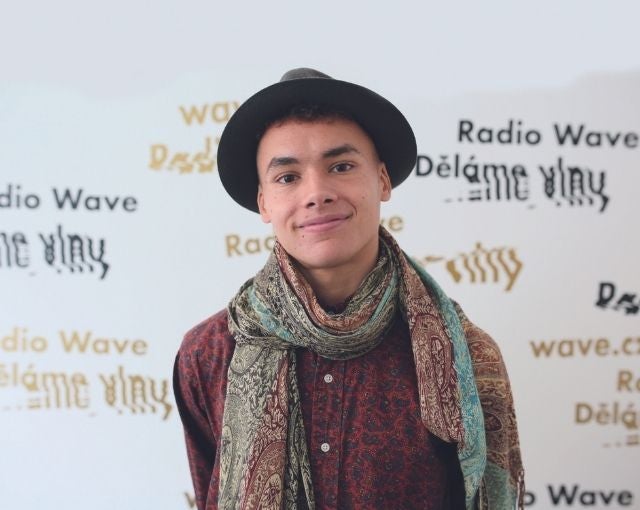 How should we best present Kristián Mensa? He is constructing his own world between dance and art, movement and pictures, Olympic games and exhibitions. There is a film about him. He lives in London. He does things differently, simply, with hidden depths and ideas that are not immediately obvious.
He does not believe in coincidence. He believes in the magic he calls magnetism. "There is something surprising nearly every day. You think of someone, and suddenly receive a message from that person. I don't think it is a coincidence, it is a part of our life." Paris plays a special role in his life. That is where he first saw a b-boy performance when he was twelve; it is the place of many dance competitions, and in 2024, Paris will see the premiere of breakdance or 'breaking' at the Olympics. And Kristián Mensa wants to be there. 
His illustrations of ordinary things are very light with original 3D effects. "When I was a kid, I loved simple cartoons in books which say a lot about our lives. I love the combination of the 3D world and drawing on paper. When you take a photo of the work, it is 2D, but you can still feel the depth thanks to the shapes and shadows."
Do you distinguish between victory and success? Kristiána Mens, or Mr. Kriss, does. "I have my own theory of success which isn't measured in medals or world records. Success is when you have the power to inspire people regardless of their age. When I show a trick to a twelve-year-old and he starts to breakdance, just at the age when I started myself, that is a clear success. I surely compete to win, but I try not to transfer this motivation to my ordinary life. I let my ambition loose in competition, and then I don't need to compete in my real life."
Do you feel attracted to Kristián's art, life and opinions? Then you should go through his "multi-functionality" from A to Z.

A angličtina/English 
English is the gate to the world for me. It is an indispensable skill for people of today; it will make you understood all over the world.
B battle
Battle is a duel, but also fun. I usually battle with myself – in the way I get ready for the competition, in the way I concentrate, in the way I prepare my body for the performance. When I feel I have overcome myself, I can often beat my competitors. Battles also give me the opportunity to meet people, dance with them, enjoy our time together with the music and friendly atmosphere.  
C celebrities
I felt honoured to work with people like Rita Ora or Kylie Minogue. I felt privileged to appear in their dance videos, even though that particular dance style is not my highlight. I generally accept celebrities as ordinary people. Some are more successful in their lives, some less, but we all have our goals and achievements.
D duše/soul 
Everybody has a soul. Just as the wheel is useless without the tube inside – I think the human body cannot work properly without a soul.
E e-mail
I often send random e-mails to artists, dancers, choreographers… I like the opportunity to send it to anybody anywhere in the world, because you never know who will open it and what a simple short message can do. What will they think? I like to write messages to support people. I tell them that I like the way they dance and encourage them to keep dancing. Even a short message is enough to encourage and gratify people. 
F fotbal/football
Football influenced me very much. The community is very competitive, you need to fight and collaborate. It was often hard for me because I'm quite sensitive. The shouting of the coaches and the pressure from my fellow players was unpleasant, but that's a part of life. It taught me very much. I was a goalkeeper, so I learned to fall, which helped me later when I started dancing.
G Ghana
My mother and I went to Ghana to follow some clues which promised to help us find our ancestors, our roots, our family. But we didn't have any great expectations, we just took it as a trip during which we could learn more about Ghanian culture. And that worked out fine. 
H Huffington post
I remember receiving the surprising e-mail when I was on a tram in Prague. (The US daily placed Kristián among the 20 most talented people of the 2020s - ed.). There are things that come unexpectedly and make your day, or even the whole week. Of course, it gave me a great impetus to continue doing what I do and encouraging people of my age, because there are not only 20 most talented people in the world – there are thousands. 
I improvizace/improvisation 
I improvise almost all the time. Even when I have a fixed sets of tricks – sequences which I practise and know how to do them. Before the performance, I decide which three tricks I would do, but I don't think about how to connect them. That depends on the music, on the atmosphere, occasion... I tried to plan the whole performance, but it doesn't work for me because then I'm not open to the moment. As if I had my eyes covered.
J jídlo /food
Healthy diet is important for me. There are many restrictions – I only eat sweets once a day to value the moment and enjoy it. I eat everything, but try to make it balanced. I like simple meals – bread with avocado or pumpkin soup with coconut milk. As a boy, I had the nickname "King of Cheeses".
K klavír/piano 
Playing the piano helped me master dancing, I learned to listen to music and feel the rhythm. I love piano music, from classics like Frederic Chopin or Claude Debussy to contemporary musicians like Philip Glass and Ludovico Einaudi. Piano helps me relax, and I sometimes dance to piano music, too. 
L letenky/air tickets
I love travelling. All the plane tickets I have ever bought influenced my life in one way or another. Each part of the world that I visited changed me, regardless of whether the experience was good or bad. I'd like to travel to Iceland and Japan, to see Tokyo. 
M Mr. Kriss
I first used the alias Kriss when I registered for a battle in Prague. I considered various cool English names, and eventually shortened my real name Kristián and added an extra 's' to make look better (smile). I added the 'Mr.' at the beginning when I set up my first Instagram profile. I like the visual form of the nickname.

N nervousness
I am nervous all the time. Before important events, my mind is full of thoughts and expectations. I am often nervous during the day, but dance helps me build my self-confidence and express myself. Being authentic in the things I do helps me too.
O olympic games
I would love to take part in the 2024 Olympics in Paris. It was very motivating to watch Czech athletes in Tokyo. It gave me a lot of energy. It was amazing to realise that I could represent our country in what I do. A beautiful idea. I will do everything in my power to make it to the Olympics.
P pád/fall 
You have to learn to fall to prevent injury. You have to fall with grace to make it look like you actually didn't fall. I often practice tumbles or positions from which I fall and try to invent ways in which I could get out of it, so it doesn't look like a failure.
Q Quino 
Quino and Jean-Jacques Sempé are my two favourite cartoonists. I admire the ease and elegance of their drawings. Their cartoons can say more than a thousand words. I'd love to achieve the same in my style.
R Regina/family
My family is very important to me. It gives me a sense of belonging. And I would like to set up a family one day, too. Regina is my girlfriend. She supports me and trusts me. I can see our future; it feels good to be together. I think it is one of the greatest achievements when you find a person you want to share your life with.
S study
There were three parts of my education which influenced me the most. The first was the Opatow Flavours dance school with Robert Kysela. That is where my brother Marek and I started training, and we still do. Robert showed me what breakdance is and gave me the direction. The second was the art course taught by Jan Hlavatý which helped me find my own specific style of drawing. The third was the theatre course with Eva Hodinová which taught me to manage my stress and enjoy the performance.
T tricks
Nothing is entirely original; everything is just a fusion of various concepts. These tiny elements taken from different areas can be combined to create something new which is considered original. My dance style is composed of inspirations taken from many dancers. I watched many dance videos, but when I really liked something, I only watched it once to make sure I wouldn't copy it. I just had a vague image of the trick, so that when I tried to do the same, I could be sure it was not the same. I did it the way that I remembered. You cannot protect your inventions from competitors, but dancers are specific – we look different, we wear different clothes, we are tall or short. So, you can never copy anything exactly. And if you do, everybody will notice and you will never succeed again. An original dance style is the dancer's signature. 
U úsměv/smile
I like to smile, but I make sure my smile is not forced. When you don't feel like smiling, don't smile. On the other hand, it is great to be able to smile at the things that go wrong. To realise that it is natural, that failure and disappointment are parts of our lives. 
V výstava/exhibition 
I've had many exhibitions and each one was special. I particularly enjoyed those in Prague – in the AntHill café in June 2018 or in Vnitroblok in 2017, both entitled "World by Kriss". I invited my family and friends who created a wonderful atmosphere. There were people from different walks of life – dancers, artists, my schoolmates, and they all were a splendid company for the evenings. 
W windmill 
Windmill is one of the essential elements in breakdance when you roll from your back on your hands and then back on your back. It took me some two years to learn and it was the first moment when I felt my body was really strong and able to play with gravity.
X X-factor 
If I have any, it is a fresh attitude to the world (shy smile).
Y YouTube 
I think my most followed video is the Kriss versus Neguin battle at Red Bull Dance Your Style with several million views. YouTube is very important for b-boys. That's where I saw most of my tricks. You just search 'How to…' and get hundreds of videos to learn valuable moves and tricks in several minutes. You don't need to wait for workshops and courses, you can learn at home.
Z Zika 
We filmed the Who is Mr. Kriss? movie for two years with the excellent photographer and director Adolf Zika. It was amazing. Adolf Zika helped me face my own weaknesses. The shooting was one big analysis of who I really am. It was great to get all the positive feedback from people who saw the film and were inspired.
Text: Leonora Váhalová
Photo: Soraya Koshar – sorawya.com, Barbora Linková, Český rozhlas
The article can be found in the autumnal issue of the Leo Express magazine