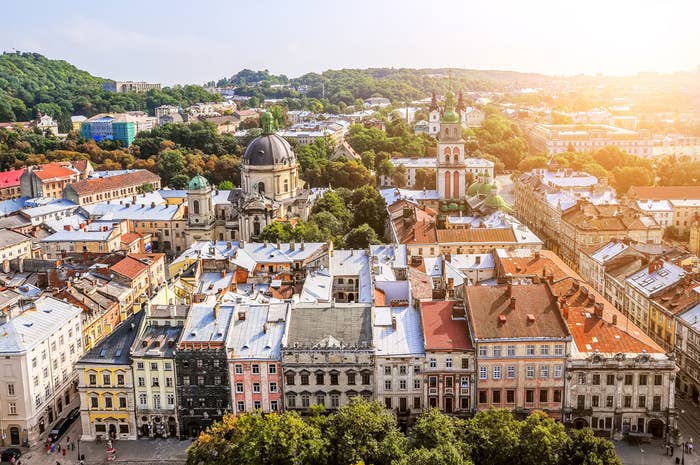 1/21/2018
Visit charming Lviv
Do you like to browse narrow streets that breathe history and, at the same time, you also want to enjoy a bit of greenery? Then Lviv is the ideal place for your holiday or a long weekend. The largest city of western Ukraine can also boast of its unique "Chocolate Factory" where you find chocolate in various common and uncommon forms! Will it become the sweet point of your stay?
History-soaked Lviv is far from the image of most travellers about this post-Soviet city. The next Prague or Krakow will fascinate you with its various churches, clusters of cafés and unusual restaurants - in short, Lviv is at the beginning of tourism development. 
Come and see it when it is not "overcrowded".
You can get to Lviv with us comfortably and simply with no unnecessary transfers. Our black-gold Leo Express buses depart from Ostrava via Krakow to the target destination. Moreover, you can choose between the Economy and Business Class thanks to which your holiday will start right after boarding the bus. The ticket prices start from CZK 119!
How can I get there?
The connection Ostrava - Krakow - Lviv is the fastest connection between Lviv and the Czech Republic and Poland. We stop at Lviv Railway Station and Lviv Bus Station Stryjskyj. 
Market Square
For more than 500 years, the Market Square has been the centre and, at the same time, the heart of Lviv, which is dominated by the Lviv City Hall. Architecture and history enthusiasts can admire burgher houses of many building styles here; thanks to four decorated fountains with Greek mythological statues you will feel like you are in a fairytale here in Lviv.
Lycakov cemetery
If you are staying overnight in Lviv, you should never miss a visit to the Lycakov cemetery, which is, like the whole city, registered in the UNESCO list. In addition to several centuries old sepulchres you can find over twenty splendid chapels and tombs of soldiers who fought in the Poland-Ukraine war. For brave individuals night excursions are also available!
Armenian quarter
Since the16th century a populous Armenian community has been living in Lviv and giving the city the imprint of its unique culture. On Virmenska Street you will feel as if you are in another world, especially when visiting the impressive Virmenski sobor cathedral, which is one of the most mystical and mysterious locations in the city.
Vysokyj Zamok park
The city bustle and stony streets must be compensated by visiting nature - you would hardly find a better location than the Vysokyj Zamok hill from which you can enjoy a beautiful view of the whole city. The park is interwoven with pedestrian paths and trails with park benches; on the very top of the hill there is the ruin of Vysokyj Zamok, which used to be used by Polish nobility.
Festivals
Lviv did not earn its reputation as a cultural centre for no reason. If you like night life, or you want to add unusual experiences to your holiday, you can choose from plentiful exhibitions, concerts or festivals, which take place here every year. You can make your choice depending on whether you are a veteran car admirer or you want to enjoy high quality wines or cheeses, or listen to jazz music, as all this and much more can be experienced in Lviv!
Important information on your trip
Citizens of the Czech and Slovak Republics do not need any visa if they stay in Ukraine for no more than 90 days. However, it is necessary to have a passport valid at least for 3 months after the trip. Confirmation for other travellers as the base document for visa issuance 
While purchasing the ticket you have to provide a name identical to the one in your passport. When leaving Lviv keep in mind that the departure times of our buses are given in the local time (UTC + 2). 
Travellers can bring with them food for their own needs not exceeding the value of EUR 200 and weight of 2 kilograms per person. Travellers over 18 years of age can import 1 litre of spirits, 2 litres of wine, 5 litres of beer, or 200 cigarettes per person. For detailed information visit the website of the Czech Ministry of Foreign Affairs.
Log into the loyalty program Smile Club