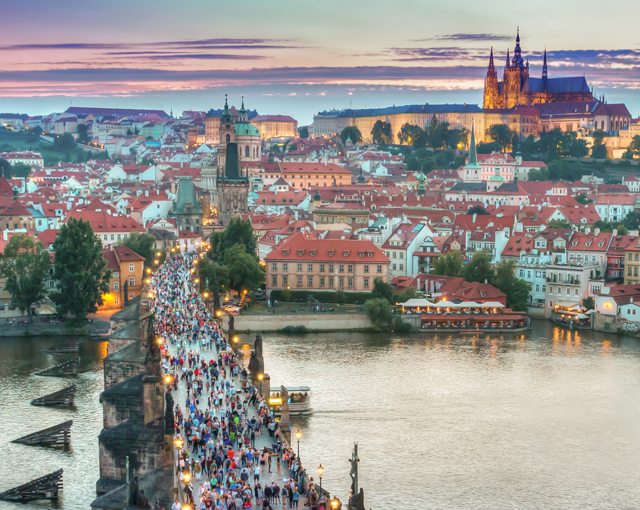 3/3/2018
Irresistible Prague
The capital of the Czech Republic with more than a million inhabitants represents a rare combination of history and modern style. Walking along the Vltava River you will enjoy the sublime atmosphere of the former emperor's seat and the vibrant and always-awake Prague streets.
Every year, tourists come to Prague to explore one of the most beautiful cities in the world and to know the local customs and the Central European mentality. If the famous Prague sights are not enough for you and you want to explore the unknown, for the human eye usually hidden sides of Prague, read our TOP 7 tips for a visit to Prague.
1.
The Prague city center is enrolled on the UNESCO World Heritage List, and gems such as Charles Bridge, Prague Castle or the Medieval Astronomical Clock are known all over the world. The city's panorama offers an unusual combination of Gothic and Baroque buildings, whose most important features are preserved to this day. All information about Prague including secret tips can be found on our Prague City Tourism partner's website. On Prague.eu you can find everything about Prague sights, accommodation, cultural events in Prague and much more. 
2.
Do you want to enjoy the city tour from a different perspective, on a board of a bus? Our partner Prague Bus Tours offers not only sightseeing tours of Prague for private purposes and tourist groups , but also trips to tourist destinations in the Czech Republic. Experienced guides comment on tours of the Prague Castle, the Jewish Quarter, the Karlštejn Castle or the Gothic town of Kutna Hora in 7 world languages! Thanks to our cooperation with Prague Bus Tours, you will get a 15% discount on all tours with our valid ticket when you enter the LEOEXPRESS discount code and book online with your credit card or on departure.
3.
Prague will be remembered by many visitors thanks to good beer and tasty food. Traditional Czech cuisine is world famous for its typical sauces with dumplings or beer appetizers. Recently, however, various influences have leaked to the Czech cuisine, so you can enjoy specialties from all corners of the world in stylish Prague restaurants and pubs.
4.
Kafkas Prague. Although for centuries Prague has been one of the cultural centers of central Europe and has been called Paris of Europe, none of the Prague writers have ever come to such a worldly recognition as Franz Kafka (1883-1924). One of the most significant figures of the world literature of the 20th century lived in the capital of the Czech Republic for years and when you walk through Prague you will definitely find various sights associated with his life. If you are more interested in exploring museums, you can learn a lot of interesting things about Kafka's life there.
5.
Prague is often called "the city of a hundred towers". There are not only famous towers of the Prague Castle or the Old Powder Tower, but also many other towers of various styles and heights. Climb up to one of them and enjoy a breathtaking view of the center of Prague - we are recommending Petřín lookout tower or Zizkov TV Tower. The panorama of the city at sunset enchants especially romantic souls.
6.
In recent years, tourism has much more to offer than just classic city tours and Prague is also constantly developing in this area. It offers a wide range of specific and unforgettable experiences. Discover Prague otherwise! It is not just a "historical center", but also a great offer of adventure activities. Try the best escape game in Prague: MindMaze offers more versions of interactive games in which you have to solve intricate riddles and find the way from a locked room with the help of various items. Games are designed for 2 to 5 players and last approximately 60 minutes. Thanks to our collaboration with MindMaze, you will get a 20% discount on 3 to 5 player games with our valid tickets.
7.
Socialist Prague. Czechoslovakia has been part of the Eastern Bloc in the last century, and the socialist era undoubtedly influenced life in Prague between 1948 and 1989. Various exhibitions deal with this theme and the best is located right in the city center. Here you can experience the atmosphere of communist life in an interactive 1500m2 museum, explore objects from everyday life and learn more about the history and development of the Czech Republic. Thanks to our cooperation with the Museum of Communism, you will get a 10% discount on your ticket with our valid ticket.
Log into the loyalty program Smile Club