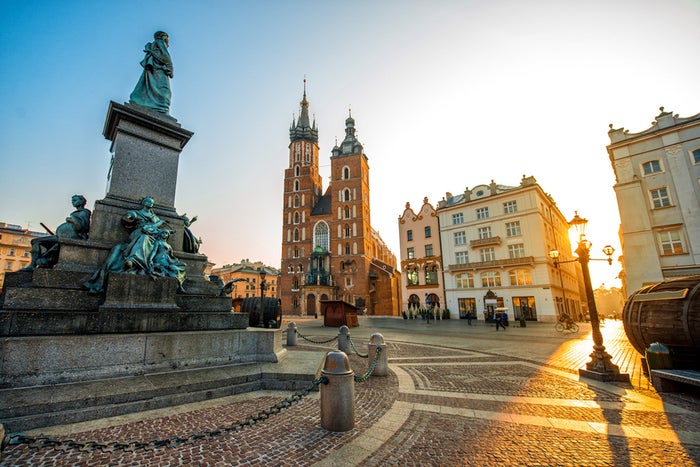 1/23/2018
Mysterious Krakow - Poland's historical pearl
Krakow will mesmerise you with its historical soul, which you will want to know more about and keep visiting it again and again! Excellent food and an unmistakable atmosphere in addition to great prices - will you fall in love with Krakow as well?  
Krakow has one great advantage for tourists: all the most important sights are clustered together and can be walked through. You will be amazed by the Rynek Glowny, which is the world's largest medieval square. Located in the square is also the most beautiful Polish shrine St. Mary's Basilica with two towers of different heights; the taller one produces music every single hour. While sightseeing in the city you should not miss the former Jewish quarter Kazimierz where a number of synagogues are located. You can also find a Jewish cemetery here or the museum seated in the former Schindler factory -you will surely feel the freezing history of Poland at every step.
Should you want to stay in Krakow more than a couple of days, we recommend a visit to the Wieliczka Salt Mine. You can find it close to Krakow and it is a unique sight - every single thing is made of salt! Various travel bureaus also offer trips to the former Auschwitz concentration camp, which is about a one-hour drive from Krakow. 
Polish cuisine
Krakow is not only a city of sights, but also of delicious food. Try Polish specialities, be it one of the variants of perogies, sausages, cabbage, mushrooms or perhaps fish prepared in many different ways. You must by all means savour local pretzels called "obwarzanky", which you can buy at kiosks on every corner!
Krakow Airport
Should you be attracted by the sea or exotic locations, or if you are to go on a business trip - the only thing you have to do is board a plane and fly. It is our pleasure to get you closer to your experiences, so we will be glad to take you to Krakow Airport too. We stop right in front of the terminal!
Log into the loyalty program Smile Club