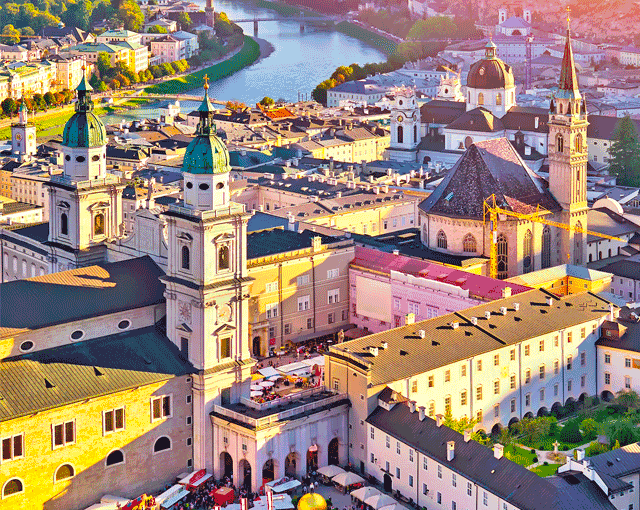 11/7/2018
Romance? In Mozart's Salzburg
Rome of the north. That's Salzburg. People speak of Italian charm, ubiquitous Baroque and fantastic cuisine. Just about all the ingredients needed for a perfect romantic weekend.
Salzburg is one of those perfect places to live. It is a museum town, a city of university education, a city of sport, a city of gastronomy, a city of nightlife... And it's also pleasant for tourists who choose to visit it. Throughout the year, it offers a rich program consisting of both regular and unique events. And just as pleasant is a walk in the city that supports both public transport and city cycling.
Mozart, Wherever You Look
Yes, Wolfgang Amadeus Mozart was born in Salzburg. If you do not remember it from school, this information gets under your skin within a few hours so that you never get rid of it. Museums with Mozart's name and concert halls with Mozart's name and, of course, Mozart's repertoire. Mozart's birth house, and several houses where Mozart lived. Then we have Mozart's Square, but the cult of the famous music composer in Salzburg is not limited to music, architecture and souvenirs. So Mozart's cake was created in the middle of the 19th century, Mozart's shoe cream was sold at the beginning of the twentieth century, and in 1905, a sweet known as Mozart's ball was presented at the World Exhibition in Paris. There are many Salzburg confectioners here today, but if you want to go
for sure, head to Brodgasse 13, where they refer to family tradition directly to the confectioner Paul Furst who invented this delicacy. Taste Mozart's balls that are still produced by hand and according to the original recipe. The sign is a silver tinfoil with a blue print.
Fried Chicken in Altstadt
If you want to get lost somewhere, do it in the streets of Salzburg's Old Town. For hours, you can walk around Altstadt and be greeted by the smiles of local merchants. Here you can buy souvenirs, browse in music shops, stop for a great coffee, and as the sun rises above your head and then aims west, you will change cafes for restaurants or a quick snack in order to compliment skilful winemakers and friendly bartenders at the end of the day. Altstadt is a lively place. But somehow different ... kind of romantic. And that's why you're here, isn't it? To taste with all the senses ... Do not miss the visit of Saint Peter's Monastery. In the local shop there is
a paradise not only for the religionists, but also for the admirers of the great spirits and liquors, whose production is kept by monks across Austria. And if you must taste something in Salzburg, it's fried chicken with lemon. Anywhere. Across Austria, you will not find anything more delicious. Even Mozart was addicted to it!
text: © Martin Záruba
the whole article can be found in the autumn issue of the Leo Express magazine
Log into the loyalty program Smile Club