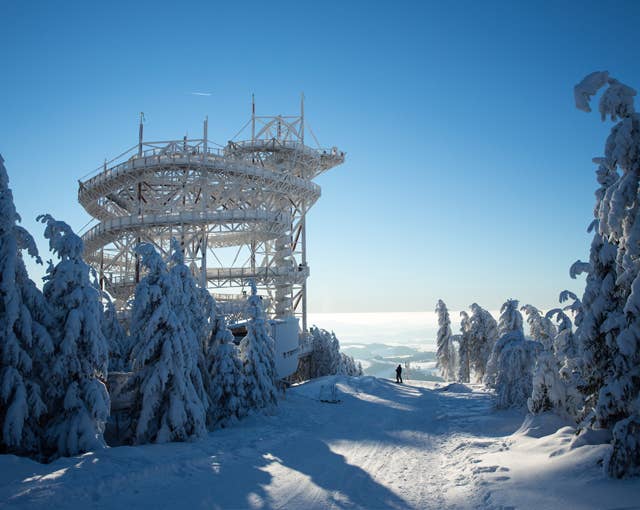 12/17/2019
Taste Winter on the Roof of Dolni Morava
It is getting colder outsider. The time of long winter evenings, when we like to be wrapped up in a blanket sipping hot tea is approaching. You may also be wondering where to go for snow this year; after all, the skiing season is knocking on the door. We have a tip for you – come with Leo Express to take a look at the Králický Sněžník area.
Up to the Skies
Beautiful views belong to the mountains and open panoramas of mountain scenery will never become boring. But you can still enrich this experience in the resort of Dolní Morava. The ski kingdom with a wide network of slopes with a total length of over 10 kilometres is dominated by an unusual building – Skywalk, also known as the Cloud Trail. A densely intertwined wooden footbridge will lead you over the treetops and open a unique view of the diverse landscape of the Czech-Polish borderland. In addition, you do not have to wait for the summer season, because it remains open throughout the year and a view of the winter landscape can be even more interesting.

Where to Now?
Skiing with a view of Králický Sněžník and a modern ski resort can hardly become boring, but if you still fancy a change, go to Buková Hill! A popular resort in the heart of the Eagle Mountains is not far away and it can make your winter holiday even more pleasant. Out of a total of eight kilometres of snow-covered trails you can find two trails that are two kilometres long. The longer one, Heroltická, has won the title of the longest downhill slope in the Eagle Mountains. And how to get to Bukovka? Simply jump on one of the Leo Express trains and get off at Mlýnický Dvůr station, where the lift is only a short walk away.
Timetable Lichkov - Dolní Morava >
Sport Includes Relaxation
Days of skiing or outdoor activities can be pretty exhausting. Recharge your batteries in the wellness centre, which is part of the resort. While enjoying the warm comfort and relaxation in the world of saunas, swimming pools and massages, you can enjoy views of the winter landscape through the windows.
The enchanting area of Kralický Sněžník can be reached on board Leo Express trains, where the regional tariff IREDO and Leo Express tickets apply. You can take ski and snowboard to all trains. More information at www.leoexpress.com/orlicko-operation.
text: Dominik Bednář
you can find the whole article in the winter issue of the Leo Express magazine
Log into the loyalty program Smile Club