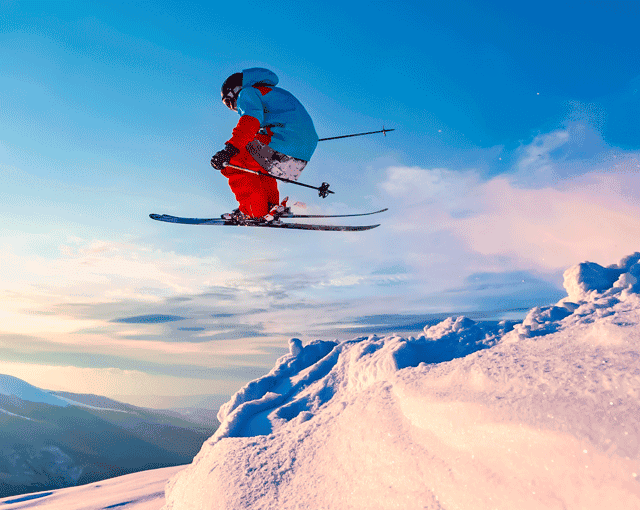 1/7/2019
Traveling to the Mountains
Where to go for the snow? Wherever the Skialps allow you. The phenomenon of recent years has provided you with the freedom of movement, so you do not have to limit yourself to the usual ski resorts, and you can use your imagination in planning your winter experiences.
The Skialps are sexy. This has been the case for several seasons, during which the new dimension of skiing became a real phenomenon. You are no longer limited, you walk uphill, and then you go downhill. It is also a wonderful thing for your fitness. The skialps offer incredible freedom. And the fact they have to be taken into account is obvious because the top ski resorts are also inclined towards this concept of skiing. For example, in such resorts as Kaprun you can buy a special discounted skipass. There are even routes for ascent. However, we have tips for you for less common destinations, where you can enjoy the freedom of skialpinism fully.
Just a Few Steps Away
The goal is clear – the town of Liptovský Mikuláš. And then you can go from there in a star shape and choose from a wide range of sites and terrains, which are located in the immediate vicinity of the town lying directly in the middle of the Liptov Basin. The height of Liptovský Mikuláš itself is a bit of a contradiction in connection with skiing, but the position at the foot of both the Low Tatras and the Western Tatras and the addition of the Chočské Hills is worth seeing. You will find here both an unpretentious mountainous terrain and the Slovak mountains. Number One in popularity is Jasna pod Chopkom, currently the largest Slovak ski resort with a total of 31 kilometres of ski slopes, four freeride zones and a snowboard park. Only seven kilometres from Liptovský Mikuláš is the Ski Centre Opalisko, where cross-country skiers can enjoy themselves. Then there is Javorovica in Liptovský Ján with 20 kilometres of cross-country tracks and four lifts. The best way for the user rating is the Žiar-Dolinka resort, which loses against its competitors in lifts and slopes, but wins with its genuine mountain atmosphere. Several Tatra valleys offer bikes and even freeride locations in free terrain. In the winter season, the mountain leaders offer organized hikes and even snowshoe hikes for skialpinists. If you are looking for the "real" High Tatras, head off to Poprad. There you will find a number of family centres with lighter terrains, but also Tatranska Lomnica, where you will find yourself on the slopes of Lomnický štít in the highest and best equipped Slovak centre. There is the longest ski slope because you have more than five kilometres of perfect downhill.
Price of ski or snowboard transport is from 2 €
Air Tram
What does a skiing paradise look like? Imagine it as Ski Amadé... Do you not know what it is? It is in Austria. They call it an interconnection of ski resorts with its heart in the Salzburg Sportwelt. Although it is only one of five interconnected areas, it offers 350 kilometres of slopes (Ski Amadé as such offers 760 kilometres). The numbers are stunning and able to ensure the satisfaction of skiers of all levels and difficulty. Here you will find everything. You can choose from a total of 270 cable cars and lifts, as well as World Cup venues such as Flachau or Altenmarkt. The best one is the G-Link cabin cable car above Wagrain, a six-minute ride over the valley means the difference of 2-1/2 kilometres. Not only because of the capacity of transport which is 1,300 skiers per hour is it called the "air tram". G-Link has linked two ski resorts at an altitude of more than 1,200 meters providing new experiences. But beware, Sportwelt is not just a world of sport. It includes various funparks for children and adults, active rest and culinary traditions. If you go from the slopes straight to a famous restaurant and taste regional specialties, do it right here. And another plus? Maybe one skipass for all linked centres!

Eastern Variety
And now something for more adventurous people. Skiing in the Ukraine has its own specifics and is attractive because of three things – a very good level of well groomed ski slopes, modest prices and ubiquitous hospitality. This is the reason why the Ukraine is becoming the destination of an ever increasing number of skiers. We remain in the Carpathians and the Transcarpathian Territories. Just get to Uzhgorod or Mukachevo and then decide where to go. And without any gear, because there is no problem to borrow everything at the ski resorts. The Ukraine is diversity. Free skialpinism on one hand, and beautiful nature on the other. The top resort is the popular Bukovel.
It was built by Austrian investors and is as good as any other built according to the Alpine pattern, and that's also true of the prices of accommodation in the resort. So what is the Ukrainian Bukovel? There are 170 snowmobiles, 22 lifts, 7 of which are fast chair lifts, 48 kilometres of slopes and the ambition to become the Olympic Centre one day in the future. Does that not feel very free to you? Then you can easily find virgin slopes for freeride and deserted ridges ideal for skiers. And mainly willing guides, who will protect you from the danger of avalanches
text: Martin Záruba
You can also find the article in the winter issue of the Leo Express magazine
Log into the loyalty program Smile Club