Gift vouchers for traveling
The best gift is an experience
You certainly have a lot of loved ones in your family and friends who like to travel. Their birthdays or anniversaries are approaching and you are wondering in vain what to give them? Buy them a voucher to travel with the Leo Express fleet! The birthday person can choose the date and destination themselves and maybe even take you with them.
How to buy a gift voucher?
Write us at

[email protected]

which value of the voucher are you interested in. Then we will agree on payment and shipping.
You can conveniently buy the voucher at our ticket offices in Prague, Olomouc or Ostrava-Svinov.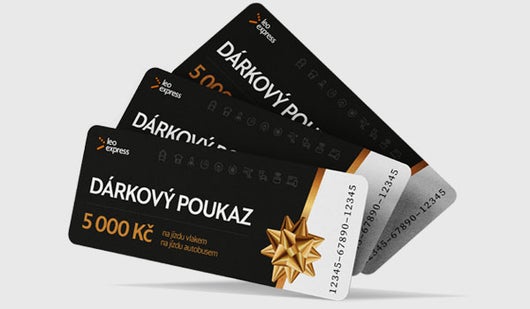 Choose the most suitable one
Whether you buy a voucher for any occasion, we have a solution for you. You can choose from several financial values according to your wishes.
Where can you travel to with us
Frequently asked questions
Did you receive a gift voucher and want to redeem it?
Applying the discount from the voucher is very simple. On the front of your voucher, you will find a specific code that you enter when buying a ticket in the Basket section. The ticket price will be automatically reduced after confirmation of the code.
How do I pay for a gift voucher?
You can pay by bank transfer or at selected Leo Express ticket offices in cash or by credit card.
Can the voucher be used repeatedly?
Yes, the voucher can be used to buy tickets repeatedly until its value is exhausted.
How do I find out the balance of the voucher?
To find out the balance, log in to your Smile Club account and in the section My leo credits, select the subsection Credit bank, where you enter the voucher number.
Can I redeem the gift voucher at any Leo Express ticket office?
Until when do I have to redeem the gift voucher?
The gift voucher is valid for 3 years. The expiry date is printed on the front of the voucher.
Can I extend the validity of my voucher before it expires?
If I order a voucher, when can I expect it to arrive?
1. We send the gift voucher in electronic form .pdf by email by the second day after receiving the confirmation of payment.
2. We send the gift voucher in printed form within 3 days after receiving the confirmation of payment via the Czech Post.
In which form will I receive the gift voucher?
We send it either by post printed on quality DL size paper or by e-mail in pdf format.