Orlicko - operation
All information about the contract transport in one place
Where we will go
Track 024: Ústí nad Orlicí – Letohrad – Králíky – Mlýnický Dvůr
Track 025: Dolní Lipka – Hanušovice (at the weekends)
Track 010: Prague – Pardubice – Ústí nad Orlicí (selected trains)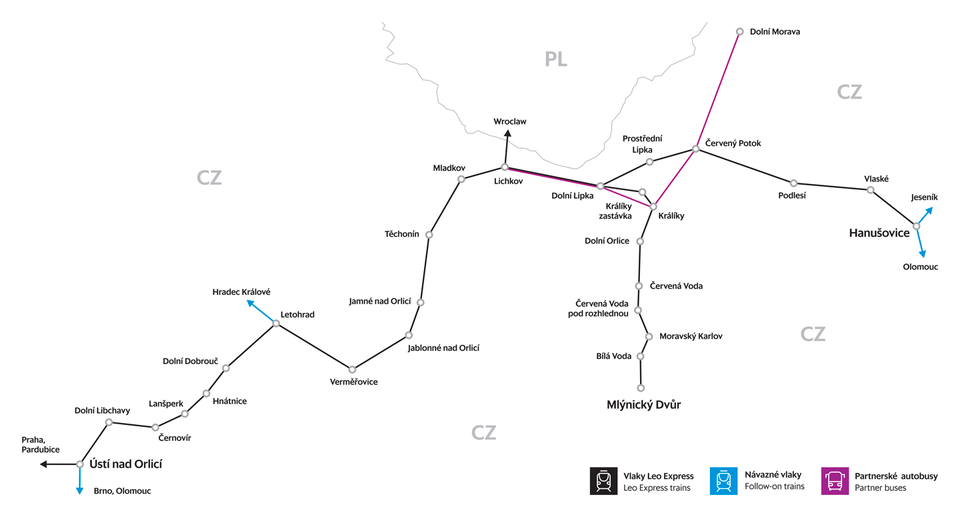 Our trains
All our trains will be barrier-free (low-floor), air-conditioned and equipped with sockets and WiFi connection.
We will deploy Alstom LINT units on most passenger trains. You can find out more about LINT here.
We will use the Stadler FLIRT electric units for express trains to Prague, Pardubice and Wroclaw. You can find details about FLIRT here.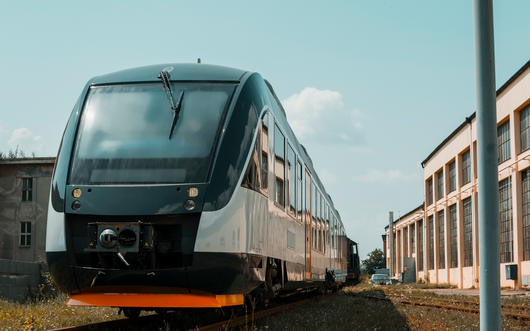 Timetable
The proposal of the timetable can be found here. Please note that this is the first draft timetable to be commented on by the municipalities and public in the coming months. The final form of the timetable is decided by the Pardubice Region as the Client.
Prices
The IREDO regional tariff will apply in our trains. For details on the IREDO tariff, click here. A tarif calculator is also available.
We are currently discussing the recognition of IN cards. We will publish details of all tariff offers in the coming months.
What are you interested in
Since when do you start operations in Orlicko?
We will drive in Orlicko from 15 December 2019 for another 10 years.
Where can I buy the ticket?
At stations in Letohrad, Jablonné and Králíky you can buy a ticket at Leo Express ticket offices. At other stations and stops you can buy a ticket from a conductor on a train. Tickets in the IREDO tariff can be bought in any other place where these tickets are sold (including ČD cash desks).
I transfer to ČD fast trains in Ústí nad Orlicí. Will these transfers be preserved?
Yes, transfers in Ústí nad Orlicí will work as they did so far. The transfer time in Ústí will be at least 4 minutes. You will be able to purchase a ticket to the follow-up train at the conductor on the train without a surcharge. Trains will be waiting for each other in Ústí according to the same rules as before (ie in case of a delay of up to 15 minutes the train will wait, but not in case of a bigger delay).
I use employee fare. Will I still be able to use it on these connections?
We are currently discussing the possibility of using employee tickets with ČD and SŽDC. We will inform you about the outcome of the negotiations in the coming months. However, we strive to ensure that at least SŽDC's employees residing or working on these connections can use our services.
For regular travel I use some of ČD's ticket subscriptions (IN 100, line ticket, etc.). Will these discounts apply at Leo Express?
We are currently discussing the recognition of these tickets with ČD. We will inform you about the outcome of the negotiations in the coming months.
Why are you going to operate motor units on the electrified track?
As the track 024 is only partially electrified (from Ústí to Lichkov), it would be necessary to switch trains Lichkov when using electric trains, which would unnecessarily complicate commuting for the people of Králicko. For this reason, we have decided to favor passenger comfort and offer a direct connection to Králicko, even at the cost of using motor units.